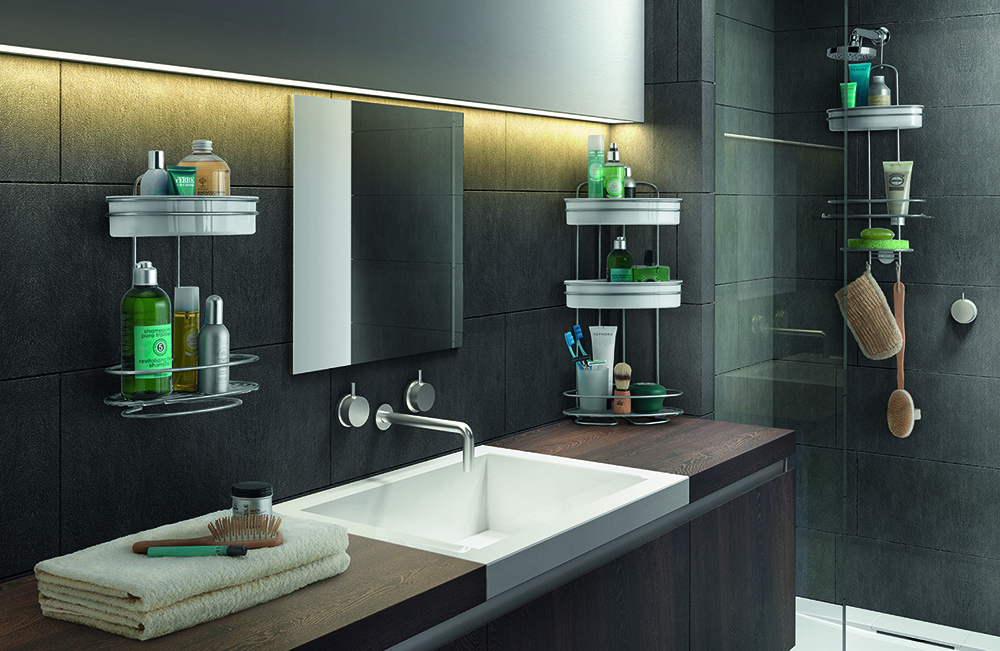 CHROMETHERM® is the new exclusive metal coating and latest innovation by the METALTEX Research and Development team, recently launched by METALTEX at Ambiente; the international trade fair for consumer goods held annually in Frankfurt.
CHROMETHERM® gives a protective finish to metal products that replicates the appearance of traditional chrome plating, but has a manufacturing process up to 85% less harmful to the environment, significantly reducing the impact on the key environmental indicators: global warming, water pollution, smog and acid rain. It is also extremely rust resistant and guaranteed for 6 years.
OSLO
The next generation of rolling carts and the first trolleys in the METALTEX range to not only be coated in CHROMETHERM®, but also have the METALTEX new quick mounting system. The chrome-effect carts come complete with large solid baskets, available in a series of 2, 3 or 4 tiers.
ORBIT
Bring together functionality with upscale aesthetics and you get ORBIT, the new collection of bathroom storage products with CHROMETHERM® coating. Designed to be hung or freestanding in the bathroom, creating extra space to store and organize your bathroom essentials. As well as rust resistance and a chrome-look finish, each product has at least one removable ceramic-white plastic tray, which makes cleaning simple.
Other innovations that were met with great interest at the show include:
BROOMY and IRONY
Introducing two smart home storage solutions that utilize the wasted space behind doors. Simply hang BROOMY over a door and store your broom or sweeper along with other household cleaning items such as polish and dustpan and brush. Meanwhile, IRONY will keep your iron, ironing board and spray bottle tidy by hanging them from the inside of a cupboard door.
Both products are finished in our exclusive and established treatment POLYTHERM®, now with a newly extended 5 year guarantee.
GALE, HURRICANE and THUNDER
METALTEX currently sits in the top 4 major European manufacturers of laundry dryers and at Ambiente, unveiled 3 new additions to their range.
GALE is an 'over-the-door' vertical laundry dryer with 3 foldable grids. Ideal for maximizing the unused space behind doors; alternatively, it can be hung from a shower screen.
At 115 cm HURRICANE is the tallest wing airer ever made by METALTEX and one of the tallest folding laundry dryers on the market. The extra height and unobstructed drying space underneath is perfect for drying long sheets and towels. Included with the airer are 2 sock-holders, shoe dryers, a peg bag and a pair of wheels for easy transportation, making this dryer well equipped for any load size.
Last but not least it comes THUNDER, a compact vertical laundry dryer with 6 front-loading drying grids. It takes up a very small amount of floor space, allowing it to fit anywhere, even inside the shower cubicle.
Also, not to be missed was the METALTEX party. An event held annually by the group at Ambiente, where all METALTEX customers are welcomed to the stand for food, drinks and entertainment. This year brought the theme of 'Bella Italia' in acknowledgment of the 70th anniversary of our oldest branches.
Thank you to all the participants, clients and staff which made the show such a great success.