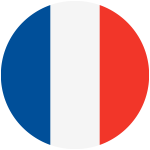 FRANCE
Metaltex France SAS
We are the Metaltex subsidiary in France located in Duppigheim (Alsace), where we have been operating since 1974, being one the first subsidiary to open. From here we market, distribute, and manage sales of household products to retailers, department stores, hypermarkets, furniture stores, and DIY stores as well as mail order and online retailers, in France and in the overseas territories.
As Metaltex company we offer a wide assortment of household solutions. These include products for storage organization and laundry care, and a range of kitchen utensils.
Metaltex France has 13,000 square meters of warehouse and a sales force of 20 executives to cover and supply throughout the territory, guaranteeing "just-in-time" delivery of orders to the point of sale.