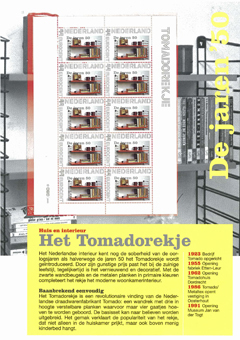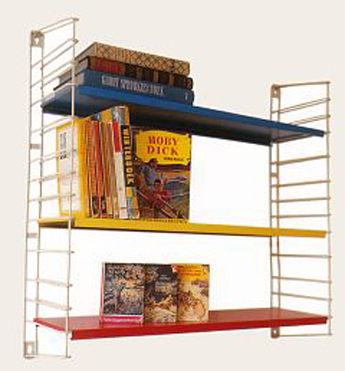 The Dutch Post Office commemorate by issuing a stamp the 50 years since the launch of the bookshelf  TOMADO, a Metaltex Group brand.
It is not often that the impression left by an object is remembered by issuing a stamp. The Dutch Post Office decided to commemorate 50 years since the launch of the Tomado bookshelf by issuing a stamp of € 0.44 nominal.
The year is 1950, the Dutch nation, as in many others, you can still feel the austerity of the war years. Tomado launches a bookshelf library made in wire which whilst having a low price to match the lifestyle of that time, is innovative, practical and good design. With the wire sides structure in black and racks in primary colours this bookshelf brings a touch of modernity to the early post war years.
A simple but successful idea: With 3 adjustable shelves, this bookshelf can be easily hung on the wall by drilling only 4 holes. Not only that, but this bookshelf was also designed as a modular system as when duplicated will become a large bookshelf library.
The product was a great success, partly because it was a suitable item for many environments, from the living room, to the study, to the nursery.
Metaltex, which now manufactures and distributes Tomado (which also holds the brand), is preparing to launch a replica of this famous bookshelf library.
Tomado is one of the most popular consumers' brand in the Benelux.