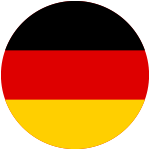 GERMANY
Metaltex Deutschland GmbH
We are the Metaltex German branch office located in Mahlberg-Orschweier (Baden-Württemberg), where we have been operating since 1967, being the first commercial branch to open. From here we market, distribute, and manage sales of household products to retailers, department stores, hypermarkets, furniture stores, and DIY stores as well as mail order and online retailers, both in Germany and Austria.
As Metaltex company we offer a wide assortment of household solutions. These include products for storage organization and laundry care, and a range of kitchen utensils.
Our premises which count with a distribution center are conveniently located near the A5 motorway and the railway line between Freiburg and Offenburg, in the immediate vicinity of the railway station, to cover and supply throughout the territory, guaranteeing "just-in-time" delivery of orders to the point of sale.
METALTEX DEUTSCHLAND GMBH
Bahnhofstr. 22-42
DE-77972 Mahlberg-Orschweier
Tel: +49 (0) 7822 8947 0
Fax: +49 (0) 7822 4863
CERTIFIES A QUALITY MANAGEMENT SYSTEM, ENSURING TO MEET THE NEEDS OF CUSTOMERS AND STAKEHOLDERS
METALTEX OFFICIAL BRANCH FOR GERMANY AND AUSTRIA
ENSURES THAT PRODUCTS COME FROM RESPONSIBLY MANAGED FORESTS THAT PROVIDE ENVIRONMENTAL, SOCIAL AND ECONOMIC BENEFITS.
CERTIFIES A QUALITY MANAGEMENT SYSTEM, ENSURING TO MEET THE NEEDS OF CUSTOMERS AND STAKEHOLDERS